A company's digital transformation hinges on the acceptance and active support of all affected staff members – a phenomenon known as "digital adoption". But what exactly does that mean? And how can a digital adoption strategy help companies transform successfully?
---
Advances in technology, software and business models have become commonplace in today's fast-changing world. For years now, many companies from virtually every industry have been experiencing radical changes in their core business operations. Steering this trend are the digitalization champions who are causing a stir on their customer markets with new ideas, relying as much on analytics as they do on customer feedback for further developments, and thus making the right decisions faster.
They are thriving in this regard because they have something that their less successful competitors do not – a mindset not dominated by insecurity and fear, but by curiosity, open-mindedness and the ability to spark enthusiasm. The industry leaders are working with the same software and apps, they're just using them better. This is down to them actively pursuing a culture of digital adoption, which is key to achieving lasting success in today's digitalized marketplace.
What is digital adoption?
Although he could never have guessed what the 21st century would bring, writer Antoine de Saint-Exupéry years ago penned an idea that accurately describes what digital adoption is all about: "If you want to build a ship, don't drum up the men to gather wood, divide the work and give orders. Instead, teach them to yearn for the vast and endless sea."
In other words, the objective is to develop a positive attitude toward extensive changes. This calls for a shift in perspective from the problems encountered toward the goal set. Indeed, this is not just about warming to digital technology. There is a comprehensive change and adoption process that takes place, empowering staff to
Recognize the potential of new technologies
Master and make full use of new business processes, technologies, applications and digital channels,
Understand the reasons for and the advantages of process optimizations,
Perceive new digital tools and methods such as agile teamwork not as a hindrance, but as a necessary step for innovation and improving customer satisfaction.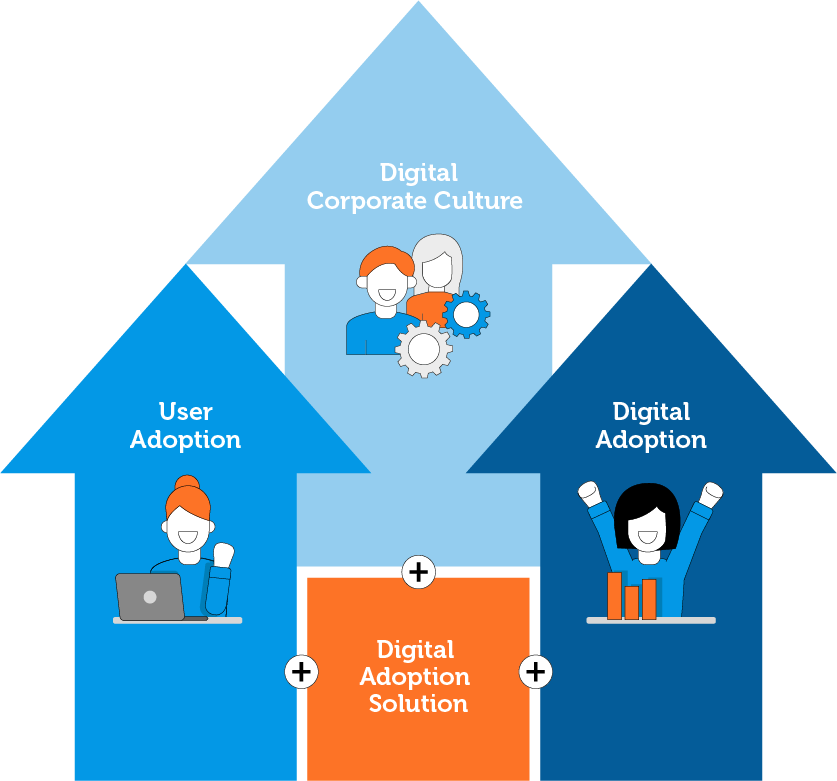 ---
User adoption vs. digital adoption
User adoption is the yardstick for how willing people are to use and the extent to which they actually use a new computer program or service. Besides the design of the application itself (practical functions, clear structure, etc.), a high level of user adoption primarily depends on targeted support being provided during use.
Digital adoption, in contrast, describes the extent to which staff are prepared to welcome the digitalization of processes and acknowledge the resulting potential of new tools, systems and forms of technology. The more willing staff are to adopt all things digital, the more likely they are to view user adoption as their contribution to their company's competitiveness – and thus to its success.
---
eBook: Competitive Advantage by Performance Support
PDF, 1.9 MB
Request the download now and receive the download link to " eBook: Competitive Advantage by Performance Support " by e-mail.
Managers need to be the driving force
Changes with such far-reaching effects for the workforce do not take place overnight. This is no sprint – it's a marathon, in which managers take the lead and set the pace. After all, new tools, systems and forms of technology will only be accepted in an environment that promotes and continuously demonstrates a willingness to welcome change with all its consequences. This is easier to achieve if
Experimentation is encouraged and a positive error culture is put in place,
Staff receive continuous training,
Software and hardware with the best possible usability are used,
Knowledge is viewed as value that increases when shared,
Staff are encouraged to take the initiative and collaborate in agile teams,
Both business analytics and user feedback form part of a continuous improvement process.
Culture back-up for technical innovations
This ideal scenario is far removed from reality, however, as a survey by the International Data Group (IDG) confirms. Although 91 percent of the companies surveyed worldwide had adopted, or had plans to adopt, a "digital-first" business strategy (i.e. a strategy to change internal processes, the corporate culture and staff skills), only 37 percent were actually putting their ideas into action. When it comes to going digital, the majority are still therefore hesitant to take the plunge.
There are many – and sometimes valid – reasons for this, including budget constraints or an urgent need for action in certain departments. The problem, however, is that digitalization projects that are primarily technology-driven and ignore the associated cultural transformation tend to underestimate the influence rolling out new systems has on staff working habits. This means little or no attention is paid to the very people whose acceptance or skepticism ultimately decides the fate of a company's digital transformation.
At the end of the day, it is the staff who are to work with the newly introduced programs and new tools so that the entire company benefits. Yet this relies on them enjoying using the new solutions and supporting the changes because they recognize the advantages and are keen to make the most of them.
Digital adoption solutions offer end-to-end support
As already mentioned, securing that all-important buy-in for a digital strategy is no short-lived sprint. It takes a great deal of patience and only leads to success when implemented as part of holistic change initiatives.
Digital adoption platforms (DAP) and solutions (DAS) provide invaluable real-time help in this regard, giving users the content they require directly at their workstation or in the relevant application. What's more, this content is tailored to the given context and as soon as the need for help arises.
Building on the concept of performance support, such self-service solutions are thought to be a key addition to formal training. This is partly because we tend to have already forgotten most of what we learned in training by the time we need to put our know-how to the test. Digital adoption platforms and solutions close these gaps in knowledge by providing the right content in the "moment of need" – be that in the form of practical tips, step-by-step guides, interactive learning, process documentation or rules and regulations. They therefore play a major role in ensuring anyone – no matter their age – can get off to a flying start straightaway, work confidently and efficiently with the software and achieve ever-better results.
Particularly when it comes to implementing digital transformation projects and rolling out business applications such as CRM, ERP or PLM programs, digital adoption solutions are key because, in an ideal situation, they provide a positive user experience and prevent losses in productivity right from the outset.
Even the best digital adoption solution is only a small piece in a large jigsaw puzzle, however. It is up to managers to kick-start the transformation, establish a cultural framework within the company and bring their digital vision to life by harnessing the concept of digital leadership. Traditional working and management models need to be reinterpreted and adapted to the needs of staff and customers. While that's easy enough to say in theory, it takes a fair bit of courage in practice. Those who cling to outdated structures for fear of making the wrong decisions in their work will fail to leverage digital adoption and the benefits it offers. This would also be a relatively brave approach – but not a very clever one.