Blended learning reloaded – a classic concept is reinventing itself
A blended learning program in the combined form of classroom, in-person teaching and online learning is still common practice. However, the primary point of difference between analog and digital content has long since been overtaken by reality. This is especially true because it has been evident for some time now that the concept is not living up to its potential and is failing to keep up with the plethora of new formats out there in terms of effectiveness or the transfer of knowledge, for example.
May 03, 2023
Johannes Starke
The blended learning model has long since established itself as a classic concept in the training worlds of organizations. This format regularly comes out on top in relevant studies on the significance of operational training programs. One of the main reasons for this is that the blended learning model is so flexible. At its core, the approach simply involves combining classroom and online learning phases. 
Blended Learning: Classic definition
According to the common definition, blended learning (also known as integrated or hybrid learning) means a combination of traditional formats (e.g. brick-and-mortar classroom sessions) and digital online learning formats. Supplementing an in-person, face-to-face classroom seminar with eLearning modules – whether before, after or alongside classroom teaching – is common practice. One widespread blended learning model is the "flipped classroom". This model involves use of an initial eLearning module to teach theoretical content or ensure all students have the same knowledge base. The classroom phase that follows is then used to practice, discuss or reflect upon the content that has been learned.  
For organizations, one of the advantages of blended learning courses is that the in-class face-to-face phase can be made shorter. What's more, hybrid learning can be made more flexible and better suited to requirements, and can be integrated into the work process. Thanks to the online modules, learners are free to decide for themselves when and where they want to work through their course materials, and can do so at their own pace.  
Classroom versus digital learning has been overtaken
Reality has, however, now caught up with the conventional blended learning concept – or even completely overtaken it. The COVID-19 pandemic has shown that face-to-face teaching now works digitally in a virtual classroom learning environment, too. Blended learning can even take place entirely online. The dividing line between analog and digital is therefore no longer so distinct.  
Driven by technological development, more and more content, formats and resources have now also gone online, and new digital media have been added into the mix, too. The result is that, in practice, an increasing number of formats are being combined with one another, meaning the blended learning environment can now comprise anything and everything.  
This has taught us that the effectiveness of this concept is not based on the combination of face-to-face sessions and eLearning. Instead, what matters is the nature of the blend – in other words, the way in which the various blended learning methods mesh together educationally – as this is what determines whether or not the learning objectives are achieved. The time is therefore ripe to revisit and revise the blended approach. 
Up-to-date blended learning
A successful blended learning concept, as we understand it, no longer involves alternating between analog and digital models (a bimodal concept), but instead means working within an open, diverse learning environment (a multimodal approach). This opens up new opportunities, enabling each individual learner to achieve their targets more effectively and in a more customized way. Consequently, the organization's goals can also be reached more precisely and effectively. Instead of just two parameters, there is now a whole host of parameters to choose from, such as a personal versus a social approach, upstream versus on the job, courses versus nuggets, and specific location versus no specific location. By applying these parameters, blended scenarios can be arranged in ways that make good educational sense and are much more precisely tailored to each individual employee's targets and needs, rather than a one-size-fits-all approach. This is something that is urgently needed.  
Organizations' requirements in terms of the effectiveness of training and the prompt upskilling of staff are on the rise – and that's not all. As a result of digitalization, employees also have much higher expectations of the training experience. Staff are now used to a very varied user experience in their day-to-day lives – from shopping platforms or streaming services, for example – that far exceeds the experience offered by conventional e-learning programs. The expectation amongst employees is therefore that the online learning approach will also use tools and mastery-based methods that take account of their personal needs.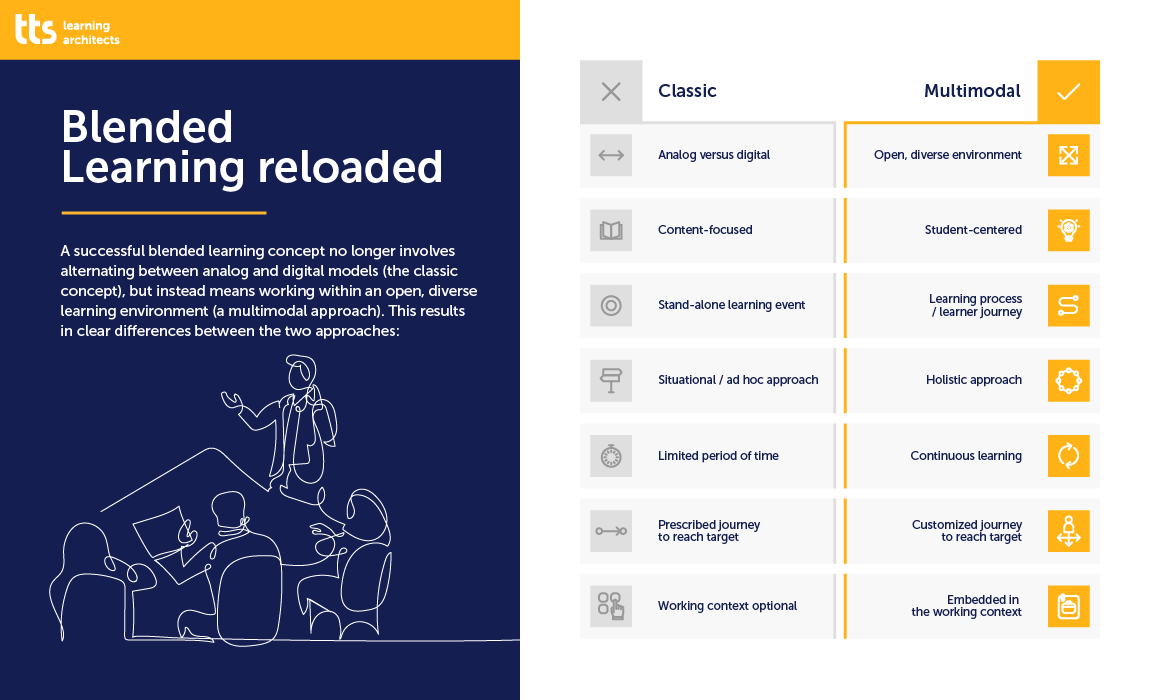 Why opt for multimodal blended learning?
The multimodal blended learning concept is always designed from the learner's perspective. It takes account of both personal training needs and the individual work environment. After all, we know that, in practice, targets are often not met because the learning courses do not reflect the reality of an employee's work. As a result, employees find the training boring or get frustrated because they cannot directly apply what they have learned from the training resources. A good blended learning concept therefore also combines the content and methods with the aim of ensuring a positive learning experience.  
Personas – i.e. very precisely described sample learners – are used to define requirements, such as: What tasks do the employees have? What are their reservations and concerns? What do they need to complete their work? What does their normal working day look like? How do they interact and mutually support one another? The answers to all these questions are incorporated into the blended learning concept.  
The starting point for any blended learning concept is the business strategy. The goals enshrined in this strategy and the steps that need to be taken to achieve them determine the goals and, therefore, the content and methods of the blended learning concept. The goals can be aimed at a variety of levels – individual employees, teams, the entire organization, customers, business partners or other external stakeholders. All these factors form the basis for selecting the individual methods and training measures.  
Benefits of multimodal learning models
The blended learning strategy can be geared more precisely to the organization's objectives and the learning targets. Employees can learn more effectively. 
Content, resources, methods and media of this approach can be better adapted to take account of individual factors, such as existing knowledge, preferences and the working environment. Learning becomes more needs-based.  
The various moments of need on this journey – the imparting of knowledge, deepening of understanding and real-world, hands-on application – can be better integrated. Continuity of learning is ensured. 
Learning can be designed in a more varied way and does not need to be tied to a specific location. This means previously untapped potential can be used, for example by promoting the informal acquisition of knowledge and skills in social learning communities, curating content, making internal experts visible and enabling employees to share content. The experience is more effective for learners. 
Content that is relevant to the working environment and, therefore, directly applicable can be supplied in a more targeted way with a blended strategy than is possible with conventional e-learning systems. The learning and practical application transfer is improved. 
The four hallmarks of the multimodal approach
The aim of the multimodal approach is to increase the sustainability and effectiveness of training in line with the business strategy. The following factors are hallmarks of this personalized and holistic approach:  
Focus on a comprehensive learning process: 
Learning is no longer regarded as a stand-alone training session, but as a continuous process. Blended multimodal concepts therefore go way beyond the initial building up of skills. This skills development takes the form of a learner journey through the various phases of the process until the desired change in behavior is achieved. 
Carefully considered choice of formats and methods: 
Every phase of the blended process comprises various building blocks that are interlinked in a way that makes good educational sense. The parameters set out above are a useful aid for selecting the relevant formats for the various training activities. Other factors are also taken into account, such as: What are the learners' expectations and experiences? Do the technical conditions and the organization's cultural framework provide the necessary support for successful implementation of the learning strategy?  
Option for employees to take charge of their own learning process: 
Learners can self-blend their learning in line with their own needs and situations (e.g. through options for choosing between different formats). They can choose for themselves which path they want to take to achieve the goals that have been set and decide what resources they will need along the way. Access points – from which they can control their learning activities themselves – help them navigate their way on this self-directed journey. 
Seamless integration into the working context:
When designing the concept, thought is also given to integrating learning into the working context. Skills should ideally be developed during the work process. Since learners are given support to master their allocated tasks during this process, the transfer of learning and the level of acceptance are improved – personal effectiveness is the name of the game. Technical resources therefore include digital adoption platforms (DAPs), which offer appropriate help in the application in question directly in the moment of need.  
Blended Learning: Comparison of the classic and the multimodal approach
One of the basic ideas behind the blended learning concept is that neither face-to-face training alone nor a course based exclusively on eLearning can meet the needs of a contemporary training approach. The blend should be a distillation of the best of both the analog and digital worlds – the personal interaction of face-to-face elements and the flexibility of eLearning. Multimodal blended learning extends this educational concept by utilizing the "trump cards" of various methods and formats without any restrictions. This results in clear differences between the two different approaches:  
| | |
| --- | --- |
| Classic  | Multimodal  |
| Analog versus digital  | Open, diverse environment  |
| Content-focused  | Student-centered  |
| Stand-alone learning event  | Learning process / learner journey  |
| Situational / ad hoc approach  | Holistic approach  |
| Limited period of time  | Continuous learning  |
| Prescribed journey to reach target  | Customized journey to reach target  |
| Working context optional  | Embedded in the working context  |
Conclusion
Classic blended learning, in its traditional form, combining classroom sessions and eLearning, is reaching its limits in terms of targeted precision and effectiveness. In terms of the learning experience, too, the concept is now outdated. The question that therefore arises is whether the concept for building up knowledge should continue to involve classroom teaching and an online learning phase, or whether it should instead be a case of using all methods and options for blended learning to increase satisfaction and boost employees' knowledge and skills in line with the business strategy. Multimodal blended learning therefore shifts the focus to a personalized learner journey that is centered around effectiveness.