Helpful tools to make remote working work

Changing times in the world of work. A virus forces millions to work from home. Whereas recent discussions focused on whether there was any point at all to remote working, 2020 has proved just what an asset it is. How are you and your company dealing with this? Are you making the most of the potential of working from home? Do you know which pitfalls to look out for? This post will tell you about the cutting-edge technologies that can help you and which obstacles you should try and avoid.
---
Studies have shown that, used correctly, remote working can motivate employees, make them more productive and also make companies more attractive. However, this model is more complex than it sounds. Simply setting up your computer in your study at home is not enough – working from home changes more than just your surroundings. You have to establish new workflows and find different forms of collaboration. You need to communicate effectively with your co-workers and bosses across wide distances and drive forward projects together, without being able to pop into the office next door.
On-screen rendezvous
All this is perfectly doable – thanks to a whole range of technological tools that exist to meet the various needs of home working. Take chatting to colleagues, for example. There are issues that have to be discussed as a group – remote working doesn't change that. That means it's time for an online conference that people working remotely from home or elsewhere can take part in, along with the on-site staff.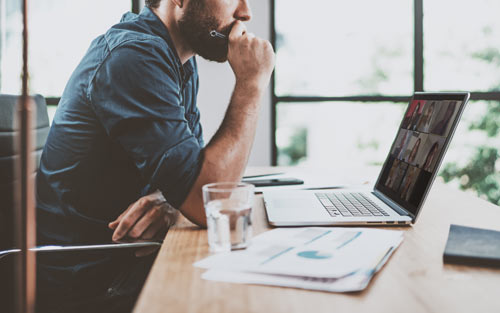 Wide range of meeting tools
On-screen conferences such as this can be conducted using Microsoft Teams, for example. This tool is suitable for project meetings, daily stand-ups, and for informal chats with the team. During the meeting, it is also possible to share files and integrate Microsoft apps. Staff can log in with their laptops, PCs, smartphones or tablets, then see themselves and the others involved in the discussion. Cloud-based conferencing provider Zoom also offers similar options. It's good to remember that participants in the chat can split into pairs or small groups in separate "breakout rooms" to discuss questions privately before switching back to the larger conference. Other meeting tools include join.me, GoToMeeting and WebEx.
Managing projects online
Anyone collaborating on projects will find project management tools to be useful aids. These provide a clear overview of the responsibilities, tasks and deadlines for all the staff involved and are accessed online, meaning all members of the project team have the same information, no matter where they are. A quick glance is enough to establish who is familiar with what work, which issues have already been resolved and what further action is required. Everyone involved can enter project progress into the system as soon as it is achieved, making it possible to gain a fairly accurate picture of the status of the project at any time. Project management tools include the clever German program factro, which processes and saves its data in German data centers, or Meistertask, which is hosted on European servers. The American organizational tool Trello is particularly well known and commonly used.
Online sharing and administration
Project planning tools aside, there are other useful technologies to help remote workers collaborate constructively. For example, it is easy to share documents using in-house company network drives and clouds. You can avoid long emails to a huge distribution list by using the open and closed group chats on Slack. But what happens when someone working from home has problems with their technology? Are all these helpful online tools suddenly useless? The Internet can help in this kind of bad situation, too. Teamviewer enables the IT staff of your company to access the computer in their colleague's home remotely and fix the problem from a distance.
Online learning and training
What's more, the important matter of training can also be taken care of without a problem. There are eLearnings available via a whole range of channels that cover all kinds of topics and requirements. When it comes to HR processes, SAP SuccessFactors (LMS) provides a whole range of options that can be adapted to precise needs and specifications.