Rapid deployment solutions (RDS) reduce implementation risks, accelerate the pace of innovation and promise a go-live in a matter of weeks. But are they suited to every company?
---
Do you think IT experts sometimes shed a quiet tear when no one is looking? No doubt they do. And they probably did when SAP unveiled the concept of its new rapid deployment solutions (RDS) to astonished experts some ten years ago. Back then, a fair few of them are sure to have thought: If only this solution had been around just one year before the last – more or less complete – software implementation, imagine how much time and money and how many sleepless nights we could have saved ourselves and others!
Speed over size
One decade later, the buzz surrounding quick start solutions, as the rapid deployment solutions from SAP are also known, has faded. Even on Google, relevant hits are hard to find – despite the words "digital transformation" being on everyone's lips at the moment. Nonetheless, these applications represent something of a revolution in the SAP world. Alongside its classic solution "tankers", the company now offers well over 150 software "speed boats" that, rather than taking months before they're operational, are implemented and ready to be put to good effect in just a few weeks.
Although the quick start solutions sometimes provide reduced functional scope compared to the related "large" enterprise application from SAP, they do offer the customer something that can evolve into a key advantage on a volatile market prone to disruption – saving time that can be invested in an agile, iterative approach to business and market adaptation.
You might think this automatically makes the RDS from SAP the go-to option. It's not that simple, though. Deciding between a speed boat and a large tanker actually involves weighing up a whole range of factors.
What is a rapid deployment solution (RDS)?
The SAP rapid deployment solutions are modular, preconfigured and fixed-price solutions with a clearly predefined functional scope. They can be used in major enterprise applications, such as SAP HANA, SAP SuccessFactors, SAP ERP, SAP ECC and SAP CRM. The RDS from SAP or SAP partners are just as good when run without the aforementioned enterprise applications, however. These are complete solutions that can be adapted, extended and combined with one another.
Thanks to their integrated, preconfigured components, this kind of solution is ready for deployment in organizations much faster than a conventional implementation. This is down to the functional scope items comprising various "accelerators", such as:
Best practices and pre-configured content meeting approximately 60 to 70 percent of customer-specific requirements
Standardized implementation methodology, including step-by-step guides
Ready-made guidelines and training documentation for ensuring user adoption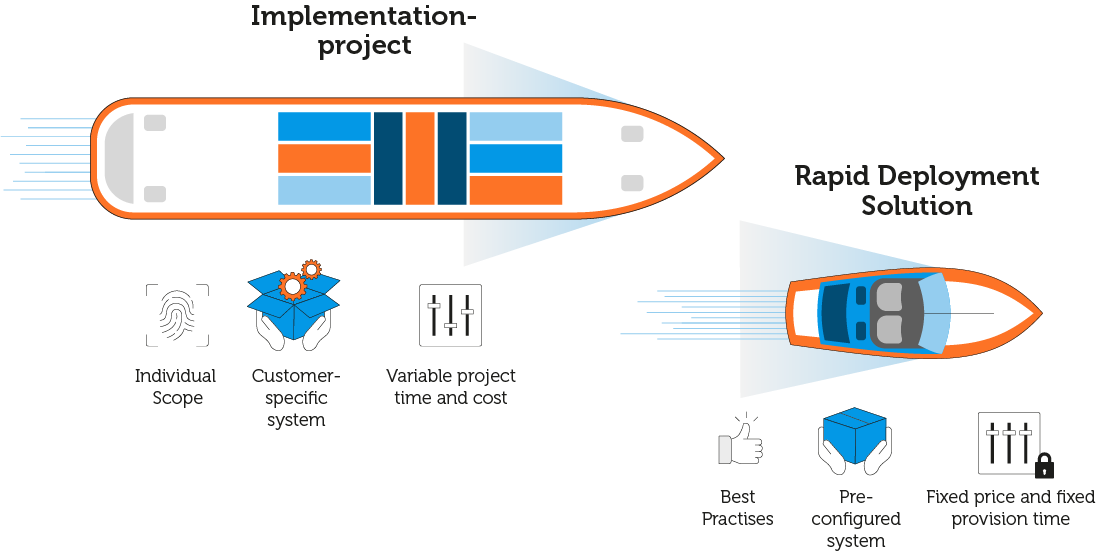 An out-of-the-box solution
SAP itself estimates the time saved compared to a conventional project of a similar scope to be at least 40 percent. For many SAP rapid deployment solutions, however, this figure is considerably higher. In other words, companies that use quick start solutions for the implementation of mobile apps, in-memory computing, analytical functions or talent management benefit from a relatively straightforward opportunity to integrate innovative business processes into their own DNA. Customers don't have to worry about unforeseen problems either, as there's no longer a need for elaborate test scripts or endless discussions – once provided, the SAP software package is instantly operational.
Particularly when it comes to applications such as SAP SuccessFactors and SAP HANA, many customers opt for the quick start solutions as an alternative methodology to conventional projects. Take the SAP Best Practices Explorer, for example, which enables users to find and compare SAP Best Practices solutions and implementation assets with ease. The SAP Best Practices Explorer is a catalogue with web channel experience that quickly guides you to the appropriate SAP Best Practices and SAP Rapid Deployment Solutions. Content such as an out-of-the-box competency catalog for the SAP SuccessFactors Recruiting suite for conducting skill-based interviews is one of the many assets that saves companies the time-consuming task of developing their own competency catalog.
Provided on-premise, in the hybrid cloud or via hosting
The majority of rapid deployment solutions are available in the cloud and, once installed on this platform, can be used on-premise without any problems.
A more convenient option and a good compromise, even if stricter compliance requirements are in place, is to use these RDS in a hybrid environment that combines both private and public cloud landscapes. In this way, a company can deploy its own infrastructure for storing and processing sensitive data, for example, while also ordering and flexibly scaling infrastructure and platform services (IaaS and PaaS) from hosting and public cloud providers. Among other things, this combined deployment strategy eliminates the hassle of updates and upgrades.
Of course, this is particularly true when the SAP RDS are provided in the cloud by an SAP partner. Many SAP partners have additional security technology for hosting or take care of the not-so-simple task of RDS management in hybrid IT structures, which simplifies both the switch and system integration for the customer.
One-of-a-kind vs. off-the-shelf – or when RDS isn't the answer
This might all sound like a nice, new world of software, and essentially it is – just not in every case. It is above all highly complex companies with lots of specific requirements (e.g. due to their industry) that still benefit from conventional implementation that involves completely adapting the software technology to existing roles and business processes.
Cleverly and well-executed custom software packages can, compared to standard alternatives, provide key competitive advantages in their functionalities – but these come at a price. After all, consultants, specialist teams and IT departments need to analyze every single one of the existing workflows and harmonize them throughout the entire organization before the SAP solution (e.g. SAP ERP) can be implemented and adapted.
Many organizations are willing to accept the costs and risks associated with conventional implementation because they believe a standard solution cannot model their corporate strategy and vision without compromising their unique qualities. Admittedly, that's often true – but it's far from always being the case. Even major corporations with numerous branches and subsidiaries spread across various countries don't need to customize each and every system. For certain processes, they can also respond to new business needs using the right rapid deployment solution. The best example of this is a highly specialized pharmaceutical firm that extends its tailored HR application to include an RDS for talent management that, depending on business needs, can be customized at any point later down the line.
The clear dividing line that isn't
Looking at it that way, the supposed dividing line between customization on the one hand and standardization on the other quickly becomes blurred. Another thing to bear in mind is that, in the majority of cases, the best practices contained in SAP RDS – say for procurement, controlling, CRM, logistics, HR & HCM, data analytics or ERP – are far more efficient than customized processes and reduce the risk of the business gradually losing touch with and access to the market.
Given how easy it is to get started, it makes a whole lot of sense to identify the in-house workflows and systems that do not require customization and to swiftly set about using a rapid deployment solution paired with standardized best practices. The relevant specialist unit can then put this solution to good effect in everyday operations. All the while, staff behind the scenes can customize it or add more rapid deployment solutions based on user feedback and experience – a switch to calculable costs that is low in risk and faster than any big bang implementation. Sure, this might also move IT professionals to tears. Only this time, it'll be tears of joy.