Organizations with a strong learning culture have competitive advantages. What's more, organizations that enable all their employees – and not just selected talented individuals – to develop to their full potential come off best of all.
---
---
How organizations are benefiting
Taking account of an employee's entire personality results in a better employee experience
Higher level of commitment thanks to personal development pathways
Improved employee satisfaction thanks to development opportunities without changing job (additional roles, projects, duties)
Enhanced employer attractiveness
Leveraging of the organization's entire talent potential
Promoting a culture of lifelong learning
Reducing staff turnover thanks to new prospects within the organization
Higher level of employee agility
---
According to the 2022 Swiss HR Barometer of the Universities of Lucerne and Zurich and ETH Zurich, 76% of employees surveyed want to manage their careers themselves. Employees' expectations as regards development opportunities have therefore increased significantly. Successful international tech organizations have recognized this. They are leveraging digitalization and internal networks to offer their employees the best possible opportunities for career growth, in the form of mentoring programs, projects, new tasks and roles, and specific learning content, for example.  
Putting people first
In this way, a marketplace of opportunities is being created. This is opening up completely new career prospects for employees, who can undergo training, acquire additional skills and freely develop their personalities. This boosts employee satisfaction and commitment, which in turn makes the organization a more attractive employer. Organizations also create a much bigger pool of talented employees, which is another benefit, especially during times of skilled staff shortages. 
The new role of HR
However, this kind of culture, where people learn from and with each other, can only thrive when people join in. Before they can get involved, though, staff need to know what learning and training opportunities are actually available to them. In the future, communicating the range of options on offer will be a core HR task. HR managers are therefore gaining a new role. Instead of the conventional talent management approach of setting out career paths and only supporting the most talented individuals, they will be required to view all employees as customers in the future and make sure the broad development portfolio appeals to them. This transforms talent management into a people development experience.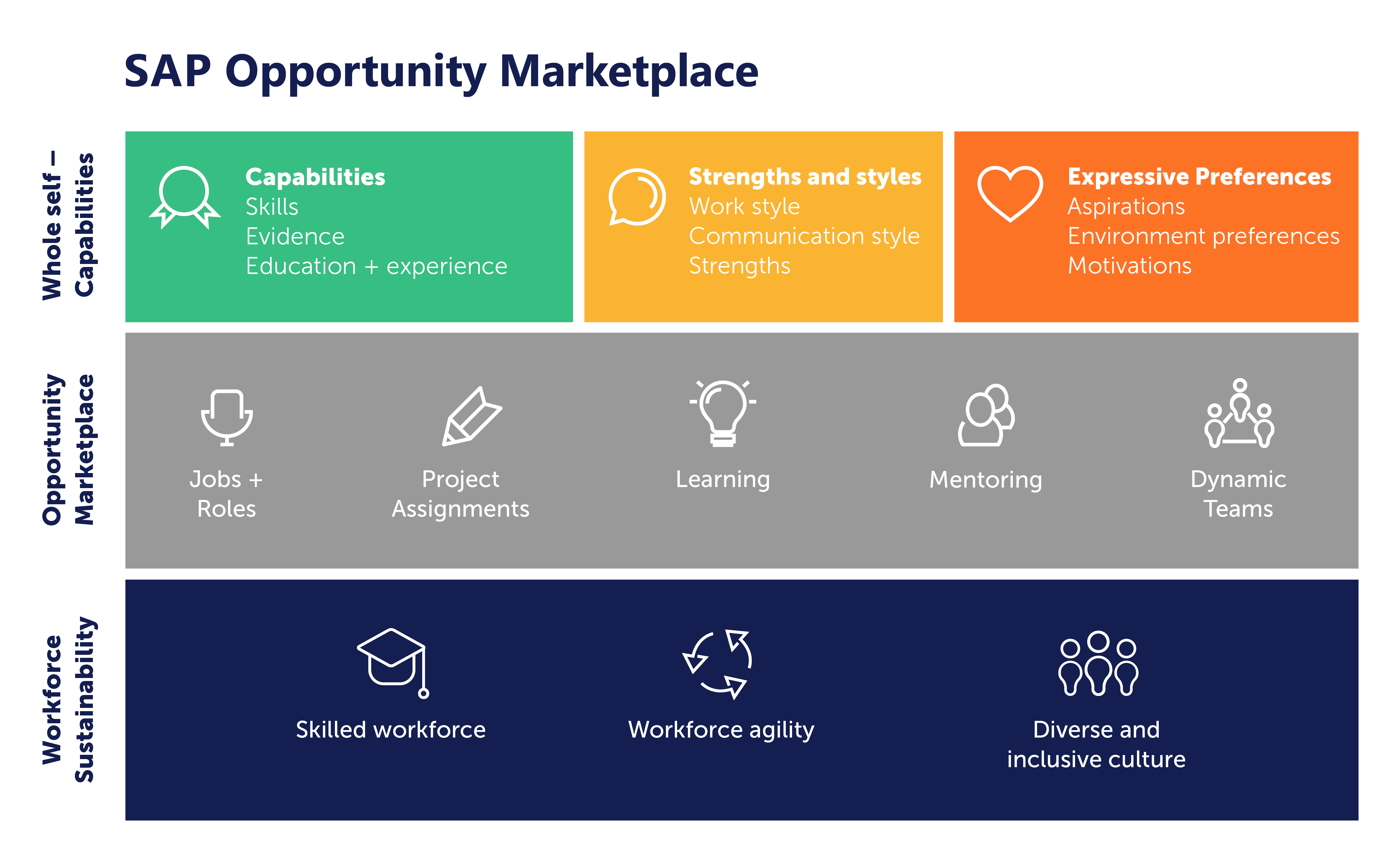 Webinar: Talent Intelligence Hub (in German language)
More dynamic, competency-centric, and AI-powered: The Talent Intelligence Hub is a central framework that connects the individual strengths and preferences of all employees across SAP SuccessFactors modules. What does this mean for your talent management?
Tools as a driver
HR managers are helped in this task by AI-supported tools such as SAP SuccessFactors Opportunity Marketplace. These tools show staff appropriate roles or tasks and suggest relevant learning content and mentoring opportunities. What makes these tools so special is that their recommendations are not based solely on training and experience, but also factor in each employee's strengths, work style, communication style and personal preferences. The HR managers always maintain an overview and are able to identify where in the organization the need for skills is well covered and where gaps are appearing. They can use these insights to provide stimulus for development and, in this way, optimally harmonize the organization's goals with the wishes of staff. 
Encouraging in-house mobility
However, this approach on its own is not enough. It is also vital that organizations create structures that facilitate strong in-house mobility and corresponding development prospects in the first place. For example, employees should have the opportunity to step away from their current sphere of activity to work in project-based teams on topics that interest them. Similarly, an employee who acquires new skills should also be given the chance to put them into practice by switching to a different part of the organization. After all, if employers don't offer their staff career opportunities, their competitors will.