Training in virtual classrooms is not a new learning format, but it is growing in popularity in times of COVID-19, quarantine and home offices. After all, virtual alternatives to communal learning are the perfect fit for the new world of work. Not only that, but, when properly executed, this format is also an efficient way of sharing practical skills. But what are the hallmarks of successful training in a virtual classroom? We have summarized five key tips for you.
---
Nothing has been the same in the world of work since the COVID-19 pandemic broke out. According to a recent study, 60 percent of all companies in Germany currently give their employees the option of working from home. Around two thirds of employees working remotely would like to continue doing so in the future. At the same time, some industries want to reduce the number of business trips they take by up to 80 percent in the medium term. Instructors and trainers are thus faced with the question of how to organize the training they offer, if traditional places for communal learning are no longer an option.
Why now is the perfect time for virtual classrooms
The most common answer to this question is – with a virtual classroom. In fact, there is a lot to be said for the digital learning format because it gets closest to traditional face-to-face training, while also meeting the requirements of the new working world. In both types of classroom – virtual and actual – learners attend live lessons together at the same time, enabling them to contribute and exchange ideas. Virtual classrooms are almost identical to their real-world counterparts, except that everyone is sitting in front of their computer instead of being physically present.
This means learners can attend training courses in virtual classrooms from their home or any other place. In addition, digital learning is easier to fit into day-to-day work, as it can be carried out at short notice, without any commuting times or travel expenses. The major advantage of online learning, however, is that the virtual training courses are offered as several short learning units directly at the workplace or in a working context, meaning the participants can then immediately apply the expertise they have just learned under real-world conditions. This is a more sustainable approach to imparting knowledge, and the ability to quickly try out new things in a real-world context makes sharing practical skills much more effective.
Synchronous and interactive – the special characteristics of virtual classrooms
What makes virtual classrooms different from other digital formats is that they use educational methods and ensure participants learn together at the same time – synchronously – and interact with each other or the trainer in real time. At the same time, however, they are not limited to just this room, as is the case with webinars, for example. Successful virtual classroom concepts combine training in virtual classrooms (synchronous) with periods of independent learning (asynchronous) overseen by trainers or teachers. The advantage is that the teachers are free to respond to queries at any time – be it as part of a joint discussion with all participants or during a period of independent learning. This means they can correct mistakes at an early stage and adapt the spectrum of knowledge transfer to suit individual learning needs. At the same time, they receive valuable feedback from the participants, which they can use when preparing the next lesson.
Another characteristic of training in virtual classrooms is that it is relatively easy to implement. Simulating a classroom (complete with whiteboard), sharing screens or applications, and integrating various communication tools are all straightforward tasks thanks to the latest technologies – whether these are commercial software solutions such as Webex and Adobe Connect, or open-source products such as OpenMeetings and BigBlueButton. Besides that, the only technology required on the participants' end is a computer with a webcam, a headset and a stable internet connection – once all that is sorted, they can dive right into their digital lesson.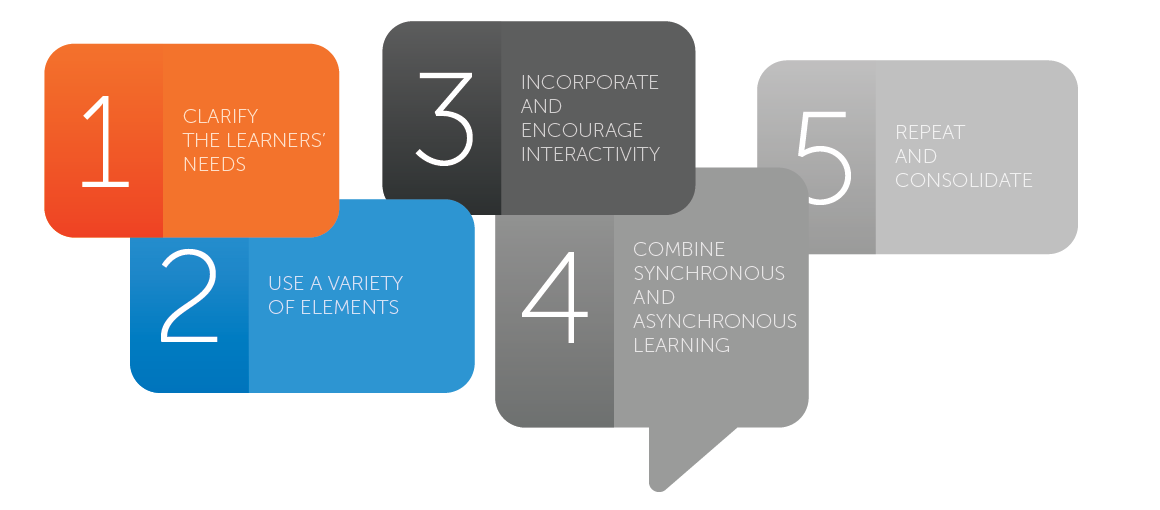 tts - knowledge matters.
5 tips for successful training in virtual classrooms
5 tips for successful training in virtual classrooms
1. Clarify the learners' needs
Learners are particularly motivated when they really need the material being taught and can apply it in their everyday work. It is therefore all the more important to clarify what they actually need in advance – using a survey, for example – and to ask them about their expectations and personal learning objectives at the beginning of a training session.
2. Use a variety of elements
Visual aids are particularly important when teaching in a virtual classroom, not only because the learners' attention span is shorter in this format than in face-to-face training, but also because they are constantly looking at the same screen. That is why every course should be structured in a multimedia format wherever possible and not contain too much text. Possible tools include:
Screen or application sharing for controlling applications on another participant's computer and making them visible for everyone
Interactive whiteboards that everyone can use together for writing, drawing or mind-mapping
Tests, surveys, single- or multiple-choice tasks, exercises and quizzes to motivate participants and consolidate what they have learned
3. Incorporate and encourage interactivity
Non-verbal communication is reduced to a minimum in virtual classrooms. This makes it difficult for trainers to assess who is and isn't really focused during online lessons. It is therefore all the more important to talk directly to individual participants in the virtual classroom on a regular basis and get them actively involved through open-ended questions, surveys, quizzes or tests. Other options for keeping participants engaged include chats for spontaneous interactions and breakout rooms for intensive work in small groups.
4. Combine synchronous and asynchronous learning
The longer the virtual lesson lasts, the greater the risk of individual participants losing the thread and logging off. For that reason, a virtual classroom session should ideally last no longer than 90 to 120 minutes. Participants learn particularly effectively when offered alternating synchronous and asynchronous learning units. As part of such a blended learning concept, each participant can go over the content they have learned online by completing transfer tasks and try out their new-found knowledge at their workplace. And if questions arise during this practical test, they can be discussed afterwards, either one on one or as a group.
5. Repeat and consolidate
Repetition helps learners internalize content even more effectively. When combined with practical exercises and realistic applications, it enables learners to transfer theory into practice extremely efficiently, which can be further reinforced by revisiting recordings of specific online courses.
The strategy and educational concept take center-stage
COVID-19 has brought to light the advantages of virtual classrooms. With all its possibilities, virtual classroom training is set to occupy an important position in corporate learning alongside the previously established learning formats. Those responsible for learning and development must make virtual classrooms a permanent fixture in their training and service portfolio. However, face-to-face training and e-learning still have their place. After all, the content determines the teaching method and the concept – not the other way around.