Discover AI innovations in Microsoft Edge to enhance your productivity and creativity
The following three hacks show you how you can take the way you work to a whole new level thanks to new functions in the Microsoft Edge browser.
October 27, 2023
Tobias Gramer
Microsoft Edge is at the forefront when it comes to providing new and exciting functions. These innovations will significantly boost your working and multitasking efficiency. Never has it been so easy to search for information online. Thanks to the new Bing Chat feature, you can seamlessly combine search requests and chats. Another interesting development in this context is the new way Microsoft Edge handles email links. You can now open an email link while also displaying the original email at the side of your browser – without having to switch between different windows.
Gain a more in-depth understanding of just what the Microsoft Edge browser is capable of, and look forward to harnessing this potential in your day-to-day work.

Using the Bing Chat feature
Instead of carrying out a conventional web search, you can now initiate more targeted search requests in a chat and display the results instantly within the conversation. You can access this feature by clicking the Bing icon in the top right corner of your Edge browser.

Composing a message with the help of the Bing Chat feature 
Bing Chat also offers the possibility of using artificial intelligence to compose messages directly from your browser.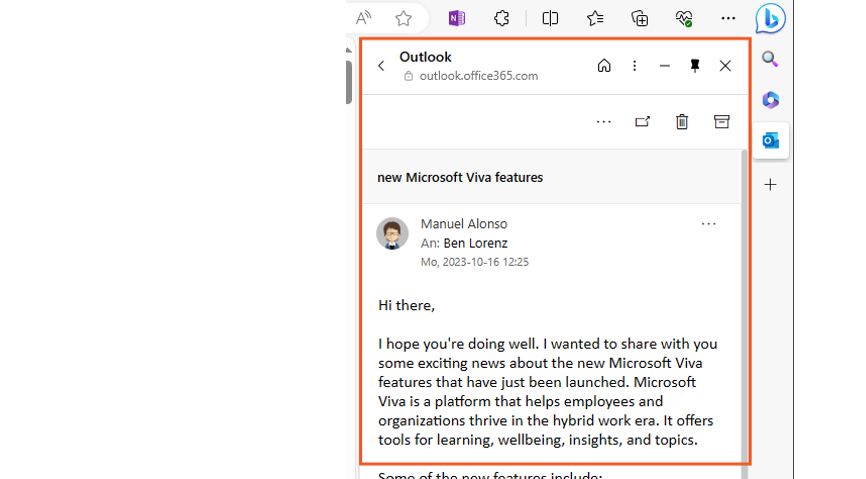 Opening an email link and displaying the original email in the browser 
Having a function that enables you to open an email link in Outlook and display the original email in the Edge browser makes it easier for you to refer to the email while working online.
Is it often a struggle finding time to reply to all your outstanding emails during your working day? Our Guide of the Month explains how you can benefit from incorporating artificial intelligence into Microsoft Edge without compromising on quality or losing that personal touch in your correspondence.
We're happy to answer any questions you may have about Microsoft 365 by email. Simply send your questions to: MS-Empowerment@tt-s.com.