When it comes to AI tools in recruitment, expectation and suspicion are felt in equal measure. We will explain what the hype surrounding robot recruiting is all about, how clever artificial intelligence actually is, and where it is already providing valuable support in the recruitment process.
---
In the space of just a few seconds, Matilda is able to analyze hundreds of candidate profiles. Quite independently, she selects suitable candidates, conducts interviews and then decides who should be taken forward to the next round. Anilina has other skills. She prefers writing, and calmly answers every question from potential applicants at any time of the day or night. Matilda and Anilina are both examples of artificial intelligence (AI) and pioneers of a development that will change the daily business of HR professionals and recruiters fundamentally. After all, as experts and the latest studies agree, the future of recruitment lies in AI recruiting.  
Efficient support in challenging times
So far, it is primarily large organizations that are pursuing the trend toward AI-based recruiting, which largely automatizes the process from sourcing to candidate selection, or augments it by analyzing huge amounts of data. However, even not-so-big HR departments are increasingly discussing this topic, because the technology is progressing on an almost daily basis, and the range of promising solutions is growing all the time.  
What's more, these solutions are coming at exactly the right time – not just because of the demographic change that is only going to make skilled positions even harder to fill in the future, but also because vacancies need to be filled ever more quickly, and in many places complex recruiting processes are taking up more resources than can be spared.  
Given these challenges, AI recruitment seems like the perfect fit. First of all, AI can relieve HR departments of time-consuming routine tasks. Second, using AI tools can deliver better results, because their analyses and forecasts provide the basis for better HR decision-making and more efficient measures.
How AI works, what it can do – and what it can't
Even if a representative Bitkom study estimated that only around eight percent of organizations in Germany currently use AI applications, this technology has long since arrived in our lives. Self-learning programming codes analyze search engine requests. They then make personalized film or music suggestions, write texts or even help ensure cars stay in their lane and maintain a safe distance to the car in front. However, there are only a very few people who know exactly how machine learning works – for most of us, AI is shrouded in mystery. 
When you peer behind that curtain, you could find your inflated expectations are disappointed, as neither intelligence nor any kind of thought process is to be found there. Artificial intelligence doesn't think, and it doesn't feel. It calculates.  
Nevertheless, it does differ from conventional computer programs that follow chains of commands based on clearly defined if-then formulas. When programmers create a piece of AI-based software, they set it a goal, rather than defining every step in detail. This could be correctly recognizing traffic signs or the meaning of facial expressions and words in different contexts. An AI requires huge amounts of training data in the form of images, voice files or text files to achieve this. Based on this data, it can quickly and continuously improve its ability to identify patterns in human behavior, for example. This machine learning continues independently within the software, which is ultimately able to use statistical methods to make or prepare decisions autonomously. 
AI – limits and risks
If that is the case, shouldn't an AI get better and better the more training data it processes? In theory, yes. In practice, however, there are always undesirable side-effects. For example, Amazon stopped using an AI-powered system in its talent acquisition process after several years, having noticed a discriminatory employment practice against women. The reason was that women were underrepresented in the training data, which led the system to enforce this quota as the status quo.  
However, artificial intelligence reinforcing a bias that exists in the training data when used on a daily basis is not a fundamental risk. If AI tools are fed bias-free content, they come to other conclusions. What's more, it is possible to steer machine learning toward fair treatment so as to promote desired tendencies in a targeted way. However skeptical you may be, you mustn't forget that – unlike humans – artificial intelligence works free of any prejudice or unconscious bias. It doesn't have a "gut" to follow. Instead, with appropriate tweaks to its algorithms, it can play a major part in eliminating bias and boosting fairness in recruiting.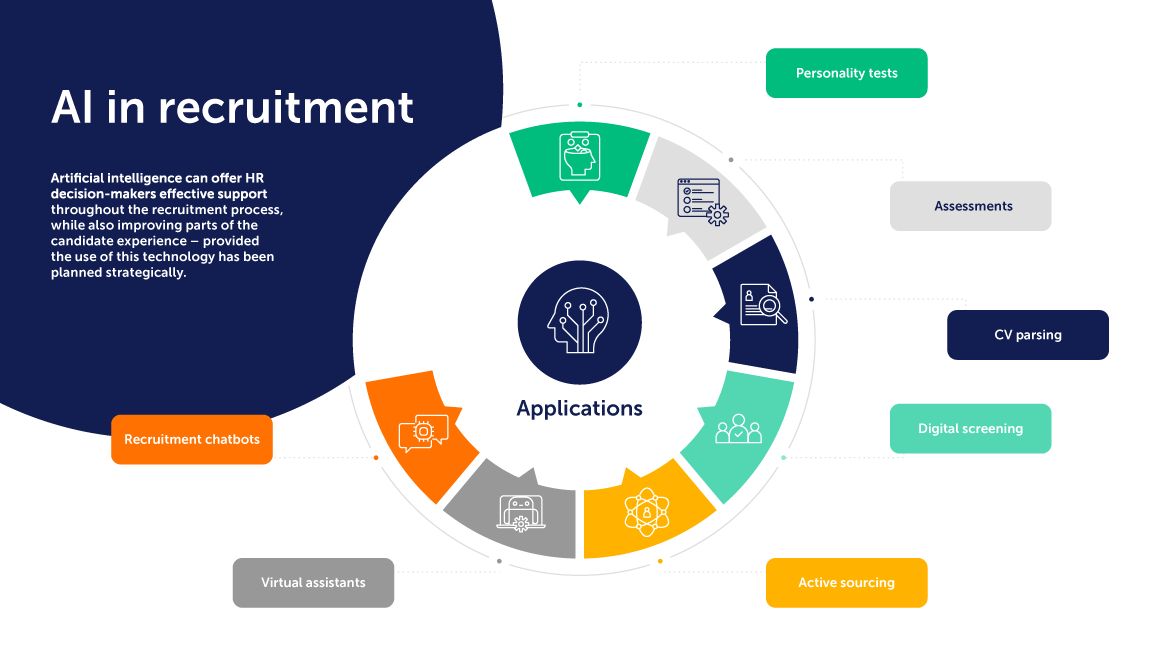 Fast, pragmatic support in recruitment
If you cast an objective eye over artificial intelligence and actually look at what it can do in recruitment, one thing quickly becomes clear. When the technology is used in considered, smart ways, it can provide HR professionals with outstanding assistance throughout the entire recruitment process and, at least at certain points, improve the candidate experience. The areas of application specific to recruitment include: 
Active sourcing:
Programs with intelligent algorithms analyze job descriptions for optimization potential, taking account of job categories and job boards. Keywords are adapted to current trends in recruitment. In addition, the solutions can conduct an automated search for suitable candidates on social media, in resume databases and in business networks.  

Chatbots for initial contact:
A chatbot answers questions from potential applicants who want to find out more, or provides them with links to more information about the application process, career opportunities, working hours and other topics. Should a situation arise where this intelligent dialog system doesn't have an answer, it passes the question on to a recruiter. Chatbots are one of the most commonly used AI recruiting tools because they enable an easy-to-use initial contact without involving a recruiter, are multi-lingual, and are available round the clock. 
Matching the right candidates to organizations:
Specialist AI recruiting software scans through hundreds of applications or online resumes in an incredibly short period of time by comparing them with the keywords defined by the organization in the job description. The information gleaned in this way is transferred automatically to the organization's applicant tracking system (resume parsing). Alternatively or additionally, the AI recruiting software can highlight top talents who are a good fit for the requirements profile or job description (resume matching).  

Personality tests:
One of the most controversial areas of AI recruiting is AI recruiting tools that analyze the demeanor and behavior of people. This analysis takes place as part of a telephone or video interview using a conversational AI platform. In the course of the session, the AI draws conclusions about the skills set – professional and soft skills – of job candidates based on their word choice, tone, facial expressions, body language and other factors. Anyone who passes this telephone or video interview test can hope to be taken forward to the next round, which could be a virtual assessment center that is also AI-driven. For the rest, this generally marks the end of the application process. 
Key advantages in the competition for talent acquisition
These few examples alone show that it is not only large human resources departments that engage in high-volume hiring or receive huge numbers of applications that can benefit from AI recruiting. Such tools can also help smaller organizations in the competitive world of talent acquisition. 
AI-driven tools speed up the recruitment process. A short time-to-hire will prevent specialists and top talents withdrawing their application early because the process is taking too long or is too complicated. At the same time, AI-driven tools can also enhance employer branding, because potential candidates take a positive view of short response times. 

Artificial intelligence relieves recruiters of frustrating routine tasks, leaving them with more time for activities that actually add value, such as checking the AI-powered pre-selection, interview scheduling and engaging in personal discussions. 

Since AI recruiting software bases its pre-screening solely on facts, it is free of the bias humans are unaware they have, and avoids the bad decisions recruiters can make as a result of that bias. However, the best results are achieved by using a combination of AI recruitment and the human intelligence of recruiters with years of experience. 
Cautious acceptance among job seekers
However, the decision to move into automated recruiting should not be based solely on efficiency criteria or how well a solution will fit into the existing IT landscape. What the applicants think of AI recruitment software being used to automate part of the decision-making process that will determine the future of their career is at the very least equally important.  
The latest studies offer mixed opinions in this regard. For example, in its "Recruiting Trends 2020" study, the University of Bamberg discovered that job seekers have a positive attitude to chatbots. More than half of applicants felt these tools sped up recruitment, while 41 percent expect they will make applications easier.  
However, the more influence the AI recruitment software has over the selection process, at the cost of human interaction, the more critical opinions become. According to a recent representative study by the IU International University of Applied Sciences, 43 percent of respondents felt that artificial intelligence has a negative impact on the candidate experience because interpersonal relationship-building with the recruiters took a back seat. Even if two-thirds of respondents felt AI-enabled recruitment will become increasingly common in the future, only one-third saw this as a positive development, most often because it makes it possible to prevent bias based on background and gender. 
Transparency is key when it comes to AI
Recruiters who turn to AI recruiting software would therefore be well advised to invest a lot of time and effort in communicating with potential applicants and putting to rest their concerns and suspicions. In addition to sufficient transparency about the way recruitment software is used and for what purpose, this should also include information about data protection and the GDPR, along with the benefits of the software selected. It is also important that applicants have a personal contact in the recruiting team who accompanies them throughout the recruitment process. After all, there is more to recruitment than communication and workflows. It also involves emotions, values and respect – in other words, the human touch of recruiters that AI recruiting can never understand or replicate.